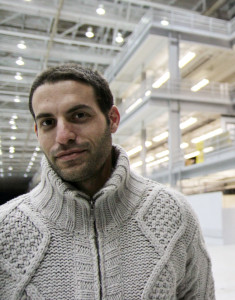 Sean Faden BIOGRAPHY
Sean has just completed work supervising the VFX for Lions Gate's Power Rangers, working for months in prep, previs, and on-set. In addition Sean contributed several weeks as an additional 2nd unit director for the film (this most recent work enabled him to join the DGA).
Prior to Power Rangers, Sean worked for over three years at PIXOMONDO, supervising VFX work on Fantastic Four, A Good Day to Die Hard, Fast & Furious 6, as well as several episodes for Game of Thrones: Season 3. A Good Day to Die Hard saw Sean on set in Budapest for two months helping to plan and shoot the movie's climactic ending. In 2012, while at Method Studios, Sean co-directed three long-form live-action spots for XBOX Kinect Star Wars titled "Duel" starring Chris Pratt, "Girly Vader" and "Xwing"- mixing HD footage from the original Star Wars with live action footage to recreate classic scenes with a modern twist.
Sean collaborated with Justin Lin to help create the dramatic airplane sequence for the pilot episode of CBS's series Scorpion. He also was VFX Supervisor and 2nd Unit Director for Time Warner Cable's Game of Thrones commercial "Game of Thrones. Everywhere."
Sean has contributed as VFX supervisor for numerous high profile film and commercial projects including Let Me In, Captain America, The Girl with the Dragon Tattoo, The Purge, and The Amityville Horror. He was both the on-set VFX Supervisor and 2nd Unit Director for the feature A Nightmare on Elm Street. His commercial experience as a VFX Supervisor and on-set VFX Supervisor includes collaborating with some of the top directors in the industry, including David Fincher, Michael Mann, Mark Romanek, Noam Murro, and Tom Kuntz.
After graduating with a mechanical engineering degree from UCLA, Sean began in the industry by creating CAD-designed miniatures  for The Fifth Element and Titanic at Digital Domain, before transitioning to their digital artist team.
In addition to his directing and on set supervision skills, Sean draws from his experience as a CG Supervisor for features such as Terminator: Salvation, Pirates of the Caribbean: Dead Man's Chest, The Day After Tomorrow, XXX, and Time Machine, having spent many years working in digital FX and camera animation.
Sean recently directed an aerial unit in China, shooting locations all over the country for a WANDA ride film entitled "Hubei In the Air". Between 2014 and 2015 he directed a 4 minute, stereo 4k, live action/CG commercial promoting one of Franco Dragone's Latest theatre shows for WANDA in China entitled the "Xi Show."  Between film projects in 2015 Sean also co-directed a spot for PS4's "Fake Mask."